Why do business with 8 Flags Insurance Agency?
Unlike a captive, or direct insurance company who only offers their own proprietary products, our agency is 100% independent of any one company. Many insurance consumers don't fully understand just how important that really is.
When it comes to something as important as insurance, it's imperative that you work with an agency who has an in-depth knowledge of multiple insurance products, companies, and guidelines — not just one.
At the end of the day, what separates one agent from another, is their ability to proactively service their policy holders, and their knowledge of the insurance industry, products, and different situations that may present themselves to their clients.
Independent Agent Vs. The Rest
Here is a quick comparison of the differences between an independent agency like us, and the various other types of companies that are out there: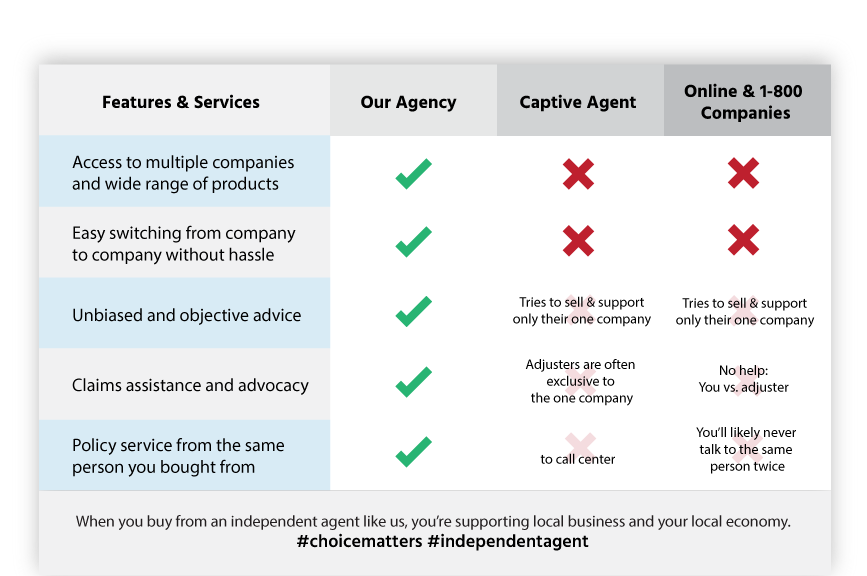 Founded in 2009, by Scott Moore and Aaron Bean, 8 Flags Insurance Agency is an independent insurance agency, dedicated to providing clients education, and options, allowing them to make decisions for insurance coverages, that they feel, best meets their needs. Now owned by Scott Moore, and Leah Hall, 8 Flags Insurance is the areas preferred insurance agency.
Scott Moore, Agency Owner
Scott Moore is a Fernandina Beach native and the third generation from his family to have owned a business on Centre Street. He is a member of the First Baptist Church, has served as a coach in many different youth sports, is a Past President of the Fernandina Beach Babe Ruth Baseball League, current President of The Dugout Club of Fernandina, serves on the boards of Main Street Fernandina and Nassau Education Foundation. Scott has over 25 years of insurance experience. Scott and his wife Terina, have 2 boys, a dog and 2 cats.

Leah Hall, Agency Owner
Leah has been in the insurance industry for over 25 years, prior to working at 8 Flags Insurance, Leah worked at some of the best known agencies in Jacksonville. She came to 8 Flags with a reputation in the insurance industry as a personal lines specialist. Leah was born and raised in Nassau County. She and her husband Mike have 2 children. When not working, you will likely find Leah and Mike with a line in the water.
Lisa Haddock, Client Concierge
Lisa has been in the insurance industry for over 25 years.  Prior to joining 8 Flags Insurance, Lisa has worked with  independent agencies specializing in personal and  commercial insurance.  Born and raised in Alabama, Lisa relocated to Nassau County raising 2 boys, her husband Dean, and Labrador Retrievers.  
If you'd like to get started with a complimentary quote and/or policy review, we'd be happy to help you any way we can. Simply complete the fields below to get started online in a matter of seconds.
We appreciate the opportunity to help you, and look forward to servicing your insurance needs! Feel free to call us directly if you have more detailed questions.